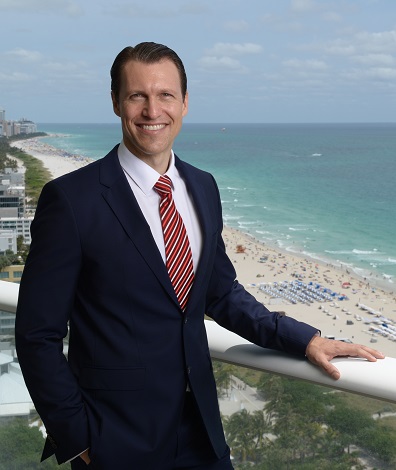 Roberto Balcker is described by his clients time and time again as knowledgeable, insightful, and personally invested in making their real estate dreams a reality. He believes in treating each and every person and will go above and beyond to get your home sold quickly, for a higher price, with as little stress as possible.
Roberto's priority are the people, then the sale. He personally invests in his clients to find exactly what they're looking for and to ensure they feel comfortable, confident, and excited throughout the process. In his own words Roberto will tell you, "I like real estate, but I LOVE the people" and his clients agree.

"I have had experience with multiple brokers. Roberto goes out of his way to do everything he can to help sell your house. He is knowledgeable, professional and really cares for his clients. You can not do better. Would recommend him to everyone I know!! He is a diamond!!"
- Mimi Bansal

I would like to take this opportunity to thank Roberto Balcker of Prime Den Realtors for an outstanding job. "Well done." It was a great experience working with him from the moment of first contact to the very end at closing. It went so smooth and seemed so easy with Roberto. He truly showed his professionalism from the beginning to the end. I don't believe I would have sold my house yet only for Roberto. There were a few challenges that came up along the way. He took the challenges in his stride and advised me along the way to what was best. To be honest I was ready to give up, as I had done with the previous 3 realtors. I must mention prior to handing the sale of my property over to Prime Den Realtors/Roberto I had 3 realtors who tried to sell my house over the past 3 years.
The only feedback/ advice I got from them was to adjust my selling price if I wanted to sell the house.
It only took Roberto and his team at Prime Den Realtors a few months to find a buyer and execute the sale.
I found him to be reliable, always available and responsive. I called on the weekends, at night. Each time he answered the phone right away. I was able to call him with ease. Thanks to Roberto for what could have been a stressful process made easy, taking into consideration I was communicating the entire sale from Thailand. He manages all aspects of the negotiation on my behalf and worked out a great deal for me.

Closing day was on the 14th July. Within a few hours of closing I was able to check my bank account from Thailand to see if the money was deposited. Just as Roberto had said, No worries.
It truly was a pleasure working with Prime Den Realtors and Roberto.
I am amazed by Roberto's constant professionalism. He kept pushing all the way through. He never gave up under the circumstances he was dealing with.
I would have no problem recommending Robert and his team at Prime Den.
Thanks Robert and Good Luck to you as you move forward .
Two words to sum up the entire sale. Beyond Excellent.
- Seamus Mee

I rarely write reviews, but wanted to take this opportunity to share my unusual, but ultimately great experience with Prime Den so that prospective buyers/sellers can confidently enjoy doing business with them.
I received a letter from Prime Den saying they had a potential buyer interested in buying a property in my building/area. I was very skeptical at first, but thought, what do I have to lose and reached out to Prime Den to follow-up on the letter.
Roberto said he had a buyer ready to present an offer. I found this extremely hard to believe since the buyer hadn't even seen my property and even after the offer was submitted, I was thinking it was too good to be true. Nonetheless, since I was in fact interested in selling my property, I proceeded with caution and we moved forward with minimal negotiations and through the sale process. Roberto and his team were pleasant to work with and I am pleased to report that I got a great selling price for my property without ever having to list. All that being said, don't hesitate to contact Prime Den if you're interested in buying/selling a property as they are a creative, effective and resourceful team that will get the job done.
- Nicole Vassilaros

Working with Prime Den has been an incredible experience. Roberto Balcker eally took the whole thing to a whole other level.
We've been "burnt" by previous bad experiences with realtors, and I was very reluctant to put our house back on the market.
Somehow, Roberto managed to convince me to give them a chance.
I honestly wasn't expecting much.
I was in for a big change of mind! What a fantastic team!
Roberto immediately proved to be the most professional people I got to work with.
They made everything simple and easy, and we've been absolutely amazed by their constant professionalism.
Not only are they very caring people, but they are patient, courteous, helpful, reliable, always available and responsive.
Thanks to them, a quite stressful process turned into a real breeze: They found us a buyer in no time, and took care of everything with relentless enthusiasm.
We're incredibly grateful to them, and we're already looking forward to having them selling our second property!
I highly recommend their services, and I know we'll never work with anybody else!!
-Cathy Bedart-Vachez.

I am originally from Brazil. I was raised by American and German parents. I moved to Miami in 2006 and fell in love. The mix of culture, weather, vibe and all the great friends made me call Miami my home. I enjoy talking about the most varied topics. I love people and look forward to meeting you and helping you get exactly what you want.