Agent Analysis for Hallandale Condo
Posted by Roberto Balcker on Monday, August 24, 2020 at 1:58 AM
By Roberto Balcker / August 24, 2020
Comment
Here is our overview on our research on the best realtor to sell an apartment at 437 Golden Isles Dr in Hallandale, FL.
We will first review the state of the market in Hallandale Beach, comparing the year of 2019 to the present coronavirus market. We will then review the most recent sales in your building. Thereafter, we will give an overview of the performance of all agents who work in your building and the Hallandale Beach area. Based on the data, we will give recommendations on which agents are most capable of selling your home for the most amount of money, in the fastest amount of time. Finally, you will be able to interview as many agents as you'd like and make a more informed decision as to how to proceed.
Market Summary
Hallandale Condos $300K - $600K
We saw a reduction in the overall number of sales in 2020 due to lockdowns beginning in March. However, the volume of sales in January and February 2020 combined, 33 sales, were comparable to the volume in the same time frame in 2019, 35 sales.
We currently have 14 pending, which would be a little less than an average month's sales. Given there are 14 months' worth of inventory, 259 currently active on the market, this would be characterized as a buyer's market, where there is a supply that exceeds demand.
Please see the tables below for more information. We look to the median to reflect the market middle in addition to the average, as the average can sometimes be skewed by outliers.
CS = Closed sales
Failed = X/T/C/W = Expired, temporary off, canceled, withdrawn
Success % = Rate of closed sales to all listings taken
SP/LP = Sales price to last list price
SP/OLP = Sales price to original list price
DOM = Days on market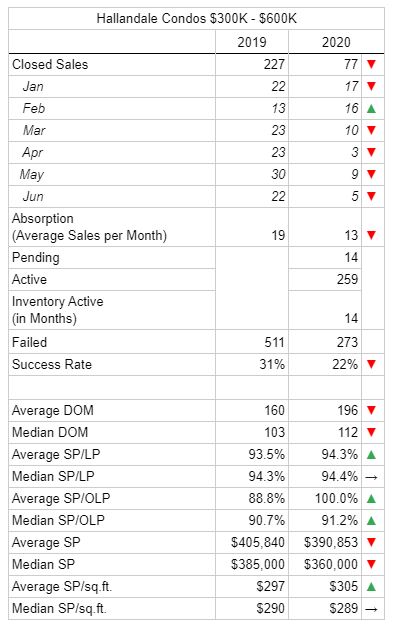 Golden Horn Condominium
There was a 30% reduction in the number of sales in your building, from 7 in 2018 to 5 in 2019. There have not been any sales in 2020 yet, however, there is 1 pending, and 5 active - 1 years' worth of inventory.
As you will see in the table below, although the number of sales went down, some metrics improved, including days on market, sales price, and median sales price per square foot.
The median days on the market improved from 151 in 2018 to 119 in 2019.
The median price per square foot is $172, with a range of $138 - $196/sq.ft.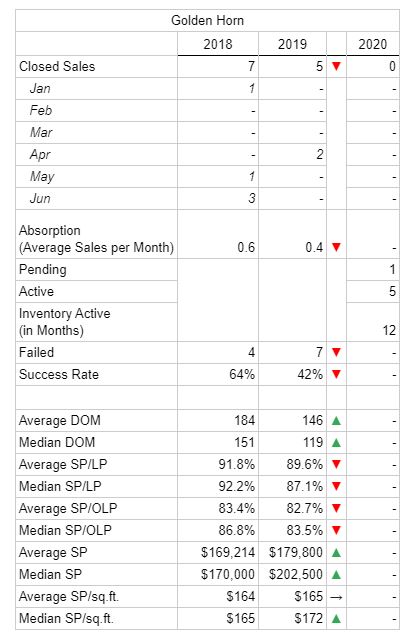 Golden Horn and Golden Horn South Condominiums
Taking into account your building and the neighboring building, there was a nearly 50% reduction in sales from 2018 to 2019. However, 2019 sales did similarly see an improvement in DOM, sales price and sales price per square foot.
The sale price per square foot for both buildings from 2018 to present ranges from $120 - $207.
There has yet to be a sale of a combined unit like yours in either building.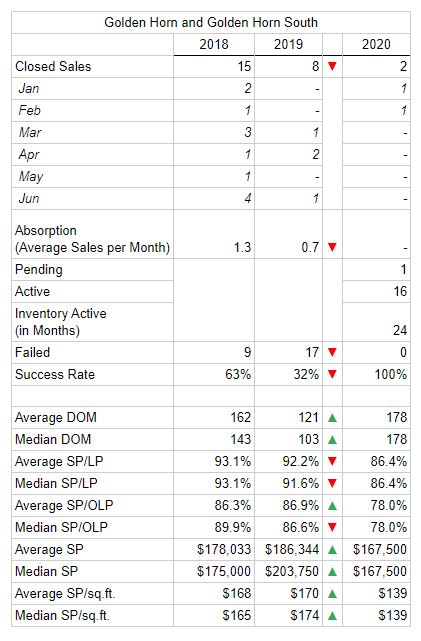 Ranking Realtors' Performance
We examined all condo listings in the Hallandale Beach area in a mile radius of your apartment, in the expanded price range of $200,000 - $700,000. While we normally look at a one-year timeframe, this time, we looked at the time frame March 2019 to present in order to give more credit to agents who may not have closed in the coronavirus lockdown months in 2020.
In the spreadsheets (attached in Excel and PDF), you will find the full overview of the statistics for the top agents' listings. You can see the details of all of their transactions in each sheet tab in the spreadsheet workbook. You will see in the spreadsheet and their tabs that the included lower ranked agents may score well in one variable, but at a closer look, this advantage is offset by being average or below average in other regards.
As we observed in the market summary, only 22% of properties in your Hallandale condo market sell. Choosing the right agent is important. For example, there were agents who worked in your building who currently have listings sitting on the market for 483 days, or only sold for 61% of the original listing price. Of the 434 agents who attempted listings around your Hallandale apartment in 2019:
69% (299 agents) failed to sell (canceled or expired)
24% (106 agents) only sold 1
7% (29 agents) sold 2 or more
Total Closed Sales
One of the first factors we look at is realtors' volume of closed sales. 93% of the agents who work in your area only sold 1 property in that area a year or did not close a sale.
The more volume an agent has, the more in-depth knowledge they have of your Hallandale condo sub-market, the more experience they have in selling and negotiating on behalf of your kind of property, and the more network they have of buyers they've encountered over the years.
Agent 1, with 12 sales March 2019 - present, has the most of the top agents.
In their 25 years of experience in real estate, they have single-handedly sold hundreds of condos in the Hallandale area (including Aventura and Sunny Isles Beach), with stats better than the market average. The MLS only goes back to 2005/2006, and it shows us 243 closed sales, however, it is likely much more than that.
However, even in the top producing agents by volume, there is a large variance in performance. Several of these are well-recognized agents but have average days on the market of 617 (Agent 19), average SP/LP of 87% (Agent 21), or success rate of 32% (Agent 13). In a market of median 112 days and 94% SP/LP, these would be considered underperforming.
Thus, we believe examining a confluence of the most pivotal factors provides a better picture. In the table further below, you'll find the top Hallandale agents' performance in several variables.
Success Rate is calculated by how many sales closed as compared to all listings taken. The higher the success rate, the more likely they are to close a sale, given their previous track record.
Agent 2 has 11 sales in our time frame, 1 fewer than Agent 1. However, Agent 1 is superior in that they have done double the sales overall (Agent 1's 243 to Agent 2's 122 sales overall years). Agent 1 is also better than Agent 2 in that they are more likely to succeed with a listing - Agent 1's 75% is significantly better than Agent 2's 48%. However, to give Agent 2 credit, it also means they are willing to take risks on unlikely listings.
Agents 5 - 8 have significantly more volume, each of them with 10 - 16 CS, but have low success rates around 40 - 60%.
The more listings an agent has, the more impressive the success rate is. Agent 3 has an 80% success rate, however, it is for only 4 properties. They have sold 13 properties overall since they have only been working in real estate for less than 5 years.
SP/LP demonstrates how well an agent can negotiate offers up and get the full asking price. For listings that undergo several price reductions, the ratio of the sales price to the original listing price (SP/OLP) better reflects performance.
Agent 3 has one of the best SP/LP at 97.7%, however, it is for a fewer amount of sales.
It is far more impressive than Agent 1 maintains such a high median SP/LP of 95.8% relative to other agents with such a large amount of sales. He clearly knows how to price intelligently.
Days on Market (DOM) counts the time between the listing date and pending date.
For properties that expired, but the agent immediately re-listed and ultimately sold that property, we give the agent credit by counting it as one closed sale and not counting the expiration as a failed transaction.
The pattern we see is the faster the property sells, the more likely it is to have a higher SP/LP. The longer a property sits on the market, the more likely it is to become stagnant and have buyers come in with lowball offers.
Looking at average DOM, Agents 1 has an average and median DOM of 53 that is half the market average of 119, and a quarter of Agent 2's 199.
The more pending and actives an agent has, the more buyers they encounter that they can direct to your listing. Agent 1 has 4 actives and 2 pending. Agent 2 has 3 actives and 1 pending.
Maggie Ivanovski is the president for Golden Horn condo association and seems to do a lot of sales in that building and neighboring buildings. However, looking at her lifetime track record, she has a low success rate, SP/LP and SP/OLP. In all of 2019 to present, she has only sold 1 listing, but failed 3, giving her a 25% success rate. The 2019 listing was sold at 87% SP/LP and SP/OLP.
Of the 3 listings that she failed in 2019, all of the sellers switched realtors, all of whom ultimately sold the properties.
Of her 4 active listings on Golden Isles Dr., none of them have professional photography, and 3 of the 4 do not even have photos of the inside of the apartment. All of them have been sitting on the market between 160 - 483 DOM, with a median of 257
She has sold 26 in her career since 2009. The highest listing she ever sold was $250K.
Top Agents for Golden Isles, Hallandale Condo
CS = Closed sales
Failed = X/T/C/W = Expired, temporary off, cancelled, withdrawn
Success % = Rate of closed sales to all listings taken
SP/LP = Sales price to last list price
SP/OLP = Sales price to original list price
DOM = Days on market
SP = Sales price
SP/Sq.ft. = Sales price per square foot
Conclusion
We believe Agent 1 is the best agent for you, given they are the most specialized in the Hallandale area, with 14 closed sales March 2019 to present, and at a 75% success rate, 53 average DOM and 95.8% SP/OLP. They have done an incredible 243+ in the Aventura area just since 2006. This massive experience makes him a clear winner over the others as the best candidate to sell your apartment, as well as help you buy your next home.
Let us know when you would like to schedule a call with one or more agents.
Please let us know if anything is unclear, or if you'd like us to provide more information. Back-up of all of the above statistics is attached, taken directly from the MLS.
Thank you for trusting us to do this research for your property.