We did it again. We sold a home for more than the previous agent had failed to sell
Posted by Roberto Balcker on Thursday, July 21, 2022 at 5:16 PM
By Roberto Balcker / July 21, 2022
Comment
We did it again. We sold a home for more than the previous agent had failed to sell
The previous agent for this particular home had started listing at close to 800,000. And over the course of a one year lowered it all the way to 700,000 and stayed at 700,000 for a few months and then failed to sell.
We took this property and listed it for $750,000 and sold for $730,000. That's $30,000 more than the previous agent had failed to sell at; about 5%.
Let me share some of the things that we do to sell homes for more money than other agents in this particular case. Every situation calls for slightly different approaches.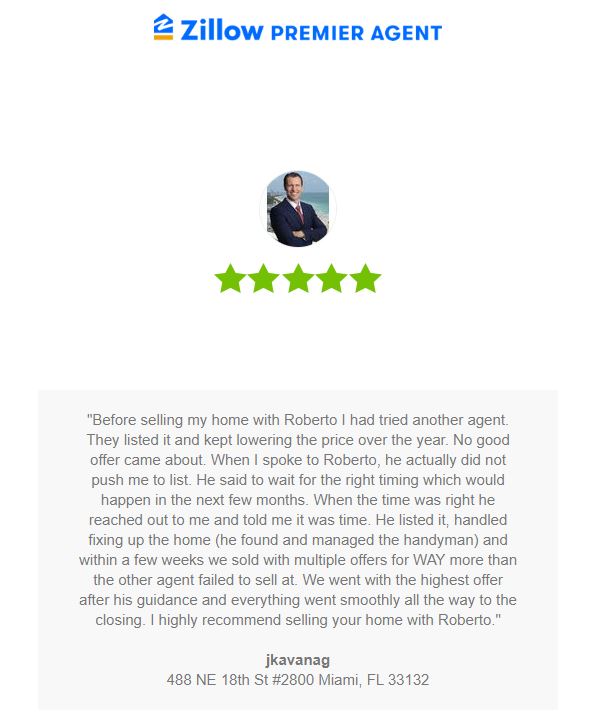 One of the first things to consider is timing. When you're looking at the competition for a particular property, there are similar homes that are constantly coming on the market and homes that are leaving by selling or giving up so we observe the inventory. You can tell the direction the prices are moving and know exactly when a home is going be priced properly at a particular price point.
In this particular case, there were a few homes that were priced below 700,000 and we wanted to sell for more than 700,000. And we knew there was a gap that once a property sold. The next one was priced close to $800,000. The seller wanted to get $700,000. So we listed it only after that competition at lower prices had left the market and before any other homes came onto the market.
The moment we listed it we were the best deal at that price point, even though it was higher than the other ones that I just sold, the comps were going to come in lower. For any buyer looking in that building, looking for that particular kind of unit in that price point, this was the best deal. When we listed all of the buyers wanted to see it.
We scheduled all of the home showings at the same time and when buyers came, they saw everybody else was interested in that property. That turned off buyers that are not that interested in the home. But the buyers that were interested knew they had to come up.
People started presenting offers and we did an open bidding process. We would go to one buyer and say, this is the price that you have to be at win and they would come up to that price. Then we'd let everybody else know and they would come to a higher price. And we kept doing that all the way to 730,000.
The offers had started below $700,000. When we got to 730,000, we had two offers and we had to pick which one we liked best. So we picked the best terms, the one we had more confidence in closing, the one that had more money in escrow and that we liked the mortgage. There were cash offers, but they were lower.
We decided to take the risk and went with a financing offer, even though we had cash offers because it was paying so much more.
Also when people showed up to the house, we made sure to articulate the value of the home, not just in showing how nice the home is, but showing it within the market context, how good of a deal that was and why people had to move forward fast and come up with such a high price
By doing all of that, we were able to get a much, much higher price than other agents were able to get for that home. The seller is very happy. The buyer is also very happy because they got the home they wanted.
We did it again. So if you're interested in selling your home and you want to get more money for your home than you could with other agents, reach out and we'll share some of our strategies with you as well.